Sonoma County Mobile Veterinary Hospital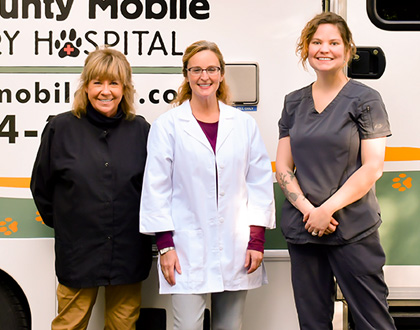 Bringing High-Quality, Compassionate Pet Care to Your Sonoma County Home
Sonoma County Mobile Veterinary Hospital in Occidental, California offers a unique approach to veterinary medicine that bridges the gap between traditional and alternative care—and delivers it right to your home. We treat a broad range of veterinary conditions with state of the art technology and a holistic approach that is responsive to both your preferences and your pet's needs. Because of our commitment to quality care and our focus on integrated veterinary medicine and pet wellness, pet owners in the Sonoma County area have come to rely on us as a compassionate and skilled partner in the care of their beloved companions.
We strongly believe that when pets receive integrated, wellness-focused veterinary care, along with a loving home, they have the best chance of living a long and happy life.
With her focus on advanced, state of the art veterinary medicine, Dr. Janet Foley offers a unique approach to your pet's long-term health and wellness. We incorporate modern technology, diagnostics, and an on-site laboratory, and, when needed, apply complementary therapies and natural approaches to healing. Your pet receives the highest quality care in his safe, relaxed home environment. This promotes a calm atmosphere for our clients and their pets and minimizes stress for both of you. Our personalized approach provides a more thorough evaluation, diagnostic, and treatment regime and we strive to go above and beyond what a traditional practice can offer to keep your pet happy and healthy.
Despite the most advanced care and nurturing, a beloved pet may still develop an illness or be injured. Our internal medicine and surgical expertise, as well as our advanced diagnostics and veterinary laboratory, ensures your pet receives a quick and accurate diagnosis. We thoroughly discuss any diagnosis and the various options for treatment with you so together we can agree on the best healthcare plan.
Veterinary medicine has become very good at diagnosing and treating disease, but these tools are enhanced when complemented by alternative healing techniques including acupuncture, herbal remedies, and nutritional therapies. We not only examine and treat the body, but care for your whole pet, taking into account all of the variables that influence physical health and well-being.
An important part of our commitment to the health of your pet is our relationship with you, the pet owner. We recognize that providing the highest quality veterinary care possible includes keeping you at the center of all we do. For that reason, we work closely with you to understand your pet's unique health needs, develop a customized wellness plan, and ensure you have the knowledge required to be a responsible, loving caregiver to your pet. It is our goal not just to ensure the health and well-being of your pet, but to be your partner in strengthening the bond you share with your companion.
Please take a look at our website. Many of the services we provide are listed along with information about our veterinary staff. If you have any questions or would like to schedule an appointment, please call us at (707) 874-1188 or email us.
Hours:
Monday - Friday: 8:30am - 6pm
Saturday: 8:30am - 2pm
Please call us at (707) 874-1188 for an appointment.
Forms of Payment:
Sonoma County Mobile Veterinary Hospital fees reflect top quality care by our dedicated and highly-trained staff with an unsurpassed level of concern for your pet. Our goal is to provide progressive, superior veterinary medical and surgical protocols while remaining competitive in the local marketplace. We are happy to discuss our fees with you prior to initiation of medical treatment and will gladly provide you with a printed estimate.
We require full payment at the time services are rendered. Deposits are required for select treatments and procedures. For your convenience, we accept Visa, MasterCard, American Express, Discover, debit cards, cash. checks, and Care Credit.
Cancellation Policy:
Appointments must be cancelled at least 24 hours prior to the appointment time, or is subject to being charged the cost of the home visit fee.