Staff of Sonoma County Mobile Veterinary Hospital
Kim Cazares, Hospital Manager / Registered Veterinary Technician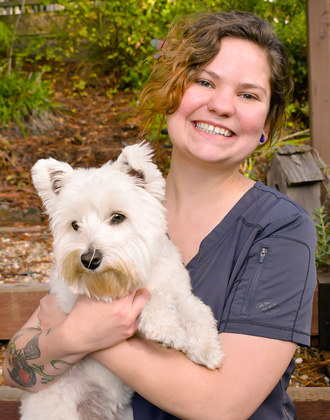 Kim is a Registered Veterinary Technician who has a lifelong love for pets. She was born and raised in rural Napa, alongside many beloved pets; mainly Australian Shepherds, Labradors, and lots of cats. This led to a career in animal medicine early on.
She started as a kennel tech at 16 at California Pet Hospital in Napa, which blossomed into a passion that continues today. After growing and honing her skills as a Technician, and completing the Santa Rosa Junior College program for Veterinary Technicians, she later moved to Sonoma County and continued her career, in emergency and skilled inpatient care at PetCare. During this time, she completed the California Registered Veterinary Technician Board Examination. Since then, she has also worked for Devotion Animal Hospital as a Senior Nurse.
An RVT since 2013, Kim is continually pursuing further knowledge as to provide the best care possible for our beloved pets. She is an avid proponent of, and utilizes "Fear Free" practices with patients. She is dedicated to helping create the most positive and productive outcomes to veterinary care, and is incredibly proud and excited to be part of the amazing service and care that Dr. Foley and Sonoma County Mobile Veterinary Hospital provides!
Outside of work, Kim is a stepmom of two awesome kids, alongside her husband Josh, and their cat Misfit. In her free time, she enjoys exploring Sonoma County's beautiful parks with her family, and kicking back with a video game.
Ann Tamony, Veterinary Technician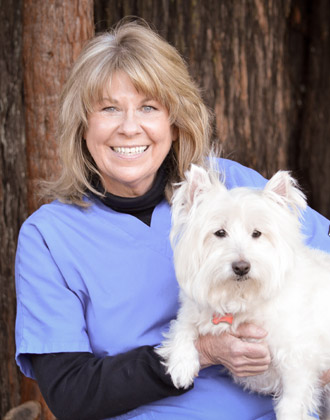 Ann Tamony understands that visits to the veterinarian can be stressful and that is why she makes a point to help keep the clinical environment calm for our patients. As a veterinary technician with Sonoma County Mobile Veterinary Hospital, her responsibilities include reception, radiology, lab work, intensive care, assistance and monitoring during surgery, IVs and phlebotomy, prescriptions, and keeping the hospital clean. Ann has a bachelor's degree in psychology and a master's degree in counseling and over 25 years of experience in veterinary medicine.
"I have worked with Dr. Foley for over four years," Ann says. "She is an excellent veterinarian, very knowledgeable and skilled. The clients adore her and are very loyal to her, which makes me enjoy working here even more."
Outside work, Ann enjoys drawing, cooking, hiking, and kayaking. She has a dog, Lucky, and three cats, Augie, Ezra, and Zelda.