Occidental Mobile Veterinarian
Dr. Janet Foley, DVM, Owner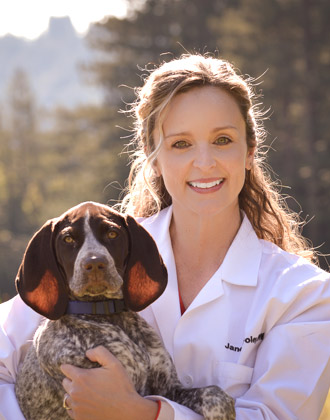 Dr. Janet Foley grew up in Maryland but later moved to Arizona where she earned her bachelor's degree from the University of Arizona in 1993. She continued her studies and earned her Doctorate of Veterinary Medicine from Purdue University School of Veterinary Medicine in 1998. Upon graduating from veterinary school, Dr. Foley practiced at a busy, progressive five doctor small animal practice in San Francisco for eight years.
After the birth of her first child, Dr. Foley decided to live full time in Sonoma County and joined the veterinary team at Occidental Veterinary Hospital. For eight years, she worked there as a veterinarian and manager. "At Occidental Veterinary Hospital, I gained a deep appreciation for the amazing pet owners of Sonoma County," she says. "I am now proud to serve the pets and pet owner community in this great area."
Now the proud owner of her own mobile pet practice, Dr. Foley uses her vast veterinary experience and knowledge to serve pet owners' needs in all of Sonoma County. Her professional interests include internal medicine, dentistry, soft tissue surgery, dermatology, radiology, oncology, nutrition, behavior consultation, acupuncture, herbology, and holistic medicine.
The happily married mother of two children, Dr. Foley and her husband make time to be active parents in their children's lives. She currently serves as a trustee on the school district's Board of Education. In her spare time, she enjoys hiking, reading, gardening, traveling, and exploring all of what beautiful Sonoma County has to offer.